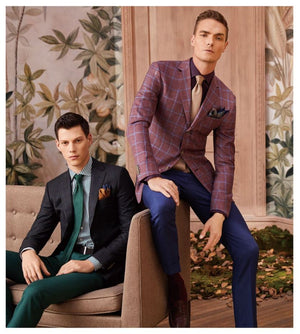 Shop your favorite patterns of luxury fabrics collection and design a unique "Bespoke" Jacket , Sports Coat or a Blazer.
Shop Jackets
Shop All
How it Works
many fabrics to choose from
Select the fabric from the collection of Suit, jackets, shirts you wish to customize
Explore the collection
Design your style
Customize the suit your way on your Mobile or on the Desktop.
Try Now
Get measured
Watch the videos and get measured at your home with the help of a friend.
learn to measure
---
New and easy way to shop online
By fusing traditional tailoring techniques with advanced technology, we've discovered a more intelligent method of dressing up. Our approach to crafting custom-tailored attire is both effortless and budget-friendly. With our user-friendly online design tool, you can effortlessly create your bespoke wardrobe.
We refrain from providing you with a digital preview of your garment as it is being handcrafted specifically for you. Instead, sit back and unwind, and in just a few weeks, you'll have the opportunity to experience firsthand a genuine bespoke garment that fits you like a glove.  
Start Customization
our BRAND Partners
What Our Customers Are Saying
Their tailoring process, their knowledge and the end product is outstanding. I'm glad that my time and money were well spent. Fabrics for warm weather in Australia with so many suit lining options and their tailoring is class apart. Thanks Mani for your excellent service in doing fittings & delivering an excellent suit. I highly recommend Blueburry Royale suits to all who are looking for a bespoke well fitted suit. Cheers !

Gary S. Turf Guru
Manny is simply the best. Words cannot describe the immense care and detail he puts into every suit. I contacted Blueburry Royal to get fitted for a tuxedo for my upcoming wedding. Manny went out of his way to meet me at my home for a custom fitting. After explaining what I'd like and what I was looking for, manny was able to construct the exact look I was after. Needless to say I was the most Handsome man at my wedding 😉. Manny knows how to treat his customers and I highly recommend him and Blueburry Royale for all your clothing needs. Thank you for everything!!

Ryan H.
Manny has been more than a Tailor to me, He's been a friend of our family. His customer service and quality product is par excellent.

Andre L.
From our conversations Manny knew exactly what I was looking for in fabrics and colors. His helpful insight made the process from start to finish rather easy. Thanks again Manny my suites look and feel fantastic.

Linwood L.
GREAT CUSTOMER SERVICE WITH ATTENTION TO DETAILS. GREAT SPECIALS ALSO. I WILL RETURN SHORTLY FOR ANOTHER PURCHASE!!!!!

Kenneth C.
Awesome service!!! Best suits I've had custom made!!!

Danny C.
Great attention to detail of design of a custom jacket! Thanks guys!

Alpha D.
I have many suits from Blueburry Royale and it is the only place I will ever get my suits! Amazing fabric, fit, customization and service!!! I highly recommend Blueburry Royale whether it's your first time getting a suit or you just simply want the best!!!

Caleb S.
Best investment I could have made! 10 custom perfect fitting shirts! Worth every penny! Looking forward to my suit!

Kevin R.